The Health Museum presents The Bone Zone opening day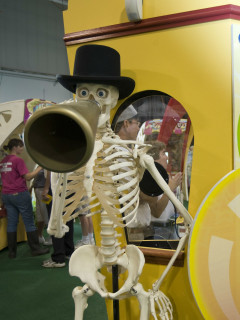 The Health Museum will feature the The Bone Zone exhibit to highlight the positive effect of nutrition and exercise on skeletal health. The 1500-foot carnival-themed interactive exhibit will be on display from Saturday, September 19, to Sunday, January 3, 2016.
The Bone Zone features nine informative, interactive displays that engage children and adults to help them develop lifelong, healthy habits. The displays feature interactive games, hands-on activities, entertaining videos, and information about bone health, diet, and exercise. These include:
Step Into the Carnival of Healthy Choices with the skeletal guide, the "Bone Barker," who describes the amazing sights and experiences that await. His sideshows, "Your Bones Are Alive," and the "Incredible Bone Crusher," challenge guests to test their strength against healthy bones that receive plenty of exercise and calcium against weak bones affected by osteoporosis.