White Linen Night in the Heights
Many events have been canceled or postponed due to coronavirus concerns. Please check with the organization before going to any event.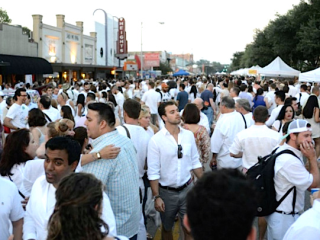 White Linen Night in The Heights started in 2006 at the suggestion of New Orleans native and then Hurricane Katrina transplants Chris Thayer and his wife, Kay, who had opened a boutique on 19th Street when they were displaced by the storm. The event was patterned after a similar event in The French Quarter Arts district in New Orleans where residents came out dressed in their white linen finest to see local art. The Thayers and the Heights First Saturday group organized the event as a way to promote interest and traffic to 19th street so local businesses could thrive in the hot Houston summer. The event has now grown to become a neighborhood wide event that is known throughout Greater Houston.