Pax Americana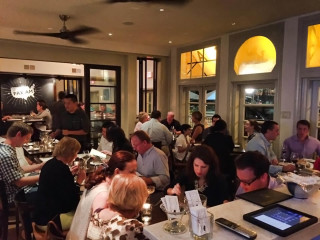 A collaborative affair between restaurateur Shepard Ross (formerley of Brooklyn Athletic Club and Glass Wall) and chef Adam Dorris (formerly of Stella Sola and Revival Market), Pax Americana features modern American cuisine with a few global touches. The restaurant has proven to be a hit from the start; tables can be difficult to come by on the weekends, but finding a seat on the patio or at the bar helps alleviate some of the crunch.
The menu has expanded a bit, but Dorris still expects diners to share his dishes. Many items, save for a few off the menu specials or larger entrees, are under $20. If a group can agree on that night's selections, a prix fixe menu offers a good value and family style portions.
The menu changes often, which makes it hard to single out any specific dish to try. In general, anything that incorporates farm fresh produce or local seafood is a winner.