The Oceanaire Seafood Room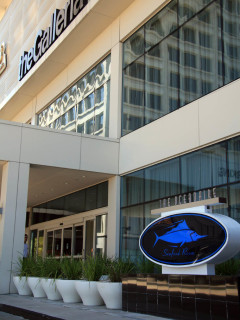 In a city overflowing with seafood restaurants, Oceanaire Seafood Room stands out. Not unlike Heidi Klum attending a PTA meeting, you're bound to notice that Oceanaire sizzles with the quality missing in many of the rest of the bunch.
This restaurant caters to patrons with fresh seafood flown in daily from around the world. Coveted catches like sole and yellowfin tuna are here to be savored along with Gulf of Mexico red snapper and Alaskan king salmon. The Mahi Mahi "black & bleu" is an unexpected combination of Cajun spices, caramelized onions and blue cheese. If you're in the mood to keep it at drinks and light fare, head for the raw bar where a dozen or so oysters are usually represented along with a shrimp-adorned Bloody Mary that could pass as an appetizer.