Indika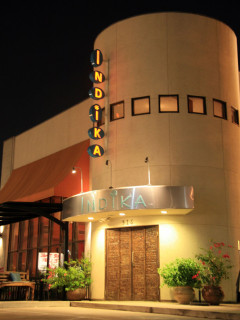 Over the centuries, Indian food evolved into an art form as chefs were challenged to create the most original and exotic culinary delicacies. Carrying forth this tradition is Anita Jaisinghani, the India-born chef and co-owner of Indika, whose nouvelle-Indian approach combines contemporary flare with ancient recipes.
For an appetizer, try the duck almond kofta in a spiced tomato curry. Other delicious offerings include grilled spiced lamb chops with a kashmiri lamb curry and black cumin pilaf or the grilled salmon with coconut chutney and a green masala sauce. The walls of the restaurant's Miami-hip interior are bathed in saffron with gauzy aqua curtains and a distressed concrete floor. For a complete experience, sip one of Indika's sensuous cocktails on the flower-bedecked patio—we suggest the "Anarkali," a ruby blend of rum, pomegranate, lime and grated ginger. While there'll be no extravagant sight of the Taj Mahal in the distance, Indika remains a decadent experience that is worth every rupee it will cost you.
Feeling adventurous? Try the goat brain masala. You won't regret it.