Hubcap Grill - Downtown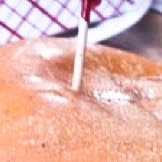 You know those fancy burgers that are made with foie gras, Gruyére and Kobe beef? Yeah, you won't find any of those at Hubcap Grill. From a tiny, cash-only stand tucked in next to the Alden Hotel, Hubcap Grill makes burgers the way people have for decades: with thin patties, thick buns, classic toppings and just enough greasy goodness — and Downtowners can't get enough. For something a little different, try the Greek burger, made with feta and kalamata olives, or the Frito pie burger with— well, you can guess. There are chicken sandwiches here, if you want, but this is the kind of place you go to devour beef. Whether you hit the downtown location or the Heights mecca, don't be afraid to order the so-wrong-it's-right Cheeto burger.
Keep an eye on Hubcap's Twitter feed for daily specials (like a waffle burger or barbecue burger featuring 'cue from Gatlin's), as well as grill wait times and owner Ricky Craig's trademark rants.