The Honeymoon Cafe & Bar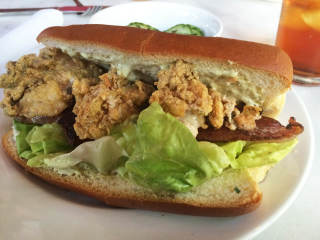 The 300 block of Main may be known for its lively bar scene, but The Honeymoon offers the area a lovely spot to eat. Perhaps most importantly, The Honeymoon provides the area around Market Square with high quality coffee thanks to the involvement of Boomtown Coffee, which roasts beans onsite.
The coffee, along with a menu of both breakfast and lunch dishes gives The Honeymoon a daytime utility that's rare for the area. At night, the New Orleans-inspired space turns into a bar, with a full menu of cocktails created by Bad News Bar owner Justin Burrow.
At breakfast, the homemade kolaches and smoked salmon plate are can't-miss items. At lunch, the fried oyster BLT uses plump, crispy oysters, and the pastrami on rye is an upgraded version of the deli classic. The weekend brunch menu is similarly intriguing, ranging from beignets with café sua da caramel to a crispy chicken liver poboy.