Eddie V's Prime Seafood — Downtown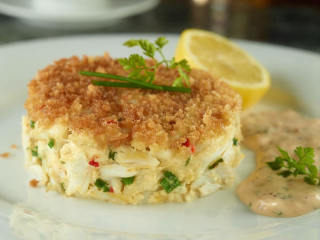 Kiss 2015 goodbye in the heart of Downtown Austin. Get your friends together to celebrate the New Year at Eddie V's Prime Seafood. Craving something more intimate? Private or semi-private dining options are still available. Make your reservations by calling (512) 472-1860.
Eddie V's Prime Seafood is traditional restaurant with a few key modern touches — especially on the menu. The portions are huge and uniformly well-executed, from Alaskan king crab served over diced avocado and cantaloupe to a Maryland crab cake that's all crab and just a hint of cake. The crab-stuffed shrimp is impossible to resist, and the Chilean sea bass steamed Hong-Kong style in a sherry sauce is a great example of a more modern fusion dish.
Address
Eddie V's Prime Seafood — Downtown
301 E. 5th St.
Austin, TX 78701
512-472-1860
Hours
Sun: 4 pm-10 pm
Mon: 4 pm-11 pm
Tue: 4 pm-11 pm
Wed: 4 pm-11 pm
Thu: 4 pm-11 pm
Fri: 4 pm-midnight
Sat: 4 pm-midnight
Good to Know
Editors' Pick
Fine Dining
$$-$$$
Happy Hour
Beer/Wine