Bistro Menil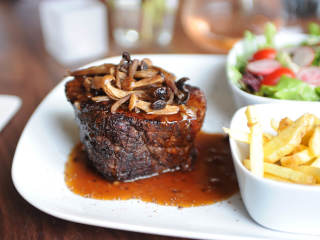 Long-serving Schiller Del Grande Group chef (RDG, Cafe Express, Taco Milagro) Greg Martin has set out on his own at the restaurant on the Menil campus. It's an elegant, austere space with the only adornment coming from chalkboards listing draft beer and cask wine selections, a dramatic-looking chandelier and "sound clouds" that help tame ambient noise.
The menu features dishes inspired by Martin's travels across America and Europe — like a pizza with Spanish brava sauce and a flatbread from The Modern in New York City. Entrees stick to crowd pleasing favorites like roasted salmon and grilled tenderloin, but Martin, mindful that he might be giving diners their first taste of Houston, has added thoughtful touches to each dish.
The restaurant's liquor license allows it to sell beer and wine to go, which means that taking a couple of sandwiches and a growler of craft beer or bottle of wine for a picnic on the Menil lawn has never been easier.