The Original OKRA Charity Saloon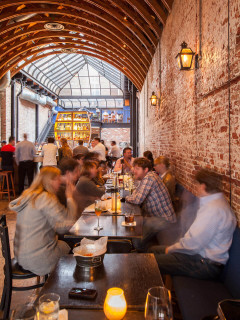 Few bars have had a more immediate impact on Houston than the OKRA Charity Saloon. A collaboration between some of Houston's most high-profile bar and restaurant owners, the bar launched with two missions. One, serve as a way for a group of successful entrepreneurs to give back to the city via an establishment that donates a portion of its profits to a different local charity each month. Two, serve as the beachhead for a wave of new concepts that opened all around it in Market Square.
As anyone who's seen people standing four deep on the bar on a Saturday night can attest, the Charity Saloon has been a success on both fronts: Monthly donations range between $15,000 and $20,000 and the northern end of downtown has lots of new businesses. All while serving drinks that befit its connection to craft cocktail bar Anvil and a tightly edited food menu of panini and snacks developed by Paulie's owner Paul Petronella.