Mongoose versus Cobra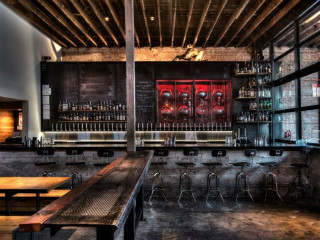 With 40-plus taps of craft beers from international as well as domestic breweries, and one of the few spots in town to serve Fernet Branca on tap, this spot sets itself apart from other Midtown bars by offering upscale cocktails and bar bites.
The building's history dates back to 1915, when it was built to become the Auditorium Grocery Company, which is appropriate because the food offerings are "grocery-style"-- meaning that the spot doesn't have a full kitchen but does sell in-house pickled sauerkraut alongside bratwurst and size-of-your-head giant pretzels amongst other gourmet snacks. The cheese plates here are legendary thanks to Dairy Maids Cheese Co., which delivers to this spot almost daily.
Go by after work for a happy hour cup of punch or stop in later in the night for their famous bitters concoction, The Roy Orbison. And say hi to the taxidermy friends who sneakily look on at imbibers.