Julep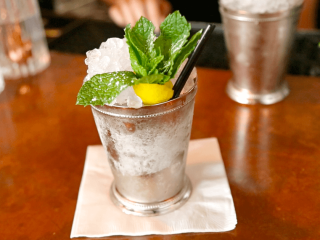 Just as Hay Merchant's is Kevin Floyd's beer bar, Underbelly is Chris Shepherd's restaurant and Blacksmith is David Buehrer and Ecky Prabanto's coffee shop, Julep reflects the vision of Clumsy Butcher's beverage director Alba Huerta and her interest in the South's cocktail history. That means a cocktail program built around Southern spirits with a focus on bourbon and a tidy menu of cold seafood dishes and bar bites.
The drinks menu is divided into three main sections: juleps (naturally), house cocktails and classics. The julep choices include classic mint as well as twists that are updated seasonally. The Cherry Bounce Sour is another winner thanks to its house cherry bounce syrup that gives an Old Fashioned-style taste to the Old Grand Dad 100 bourbon.
Southern Classic cocktails are half-off daily from 3 to 6 pm. The deal becomes even more compelling on Mondays, when raw oysters are only $1 each.