MF Sushi Museum District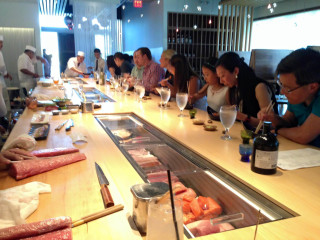 Now that his eagerly anticipated new restaurant in the Museum District has opened, sushi master Chris Kinjo is back where he belongs. The space by MC2 Architects, which earned a James Beard award nomination for its work at Triniti, puts Kinjo and his sushi chefs on stage. With the fish cases integrated into the sushi counter instead of sitting on top of it, diners can watch every knife cut that goes into preparing each dish of their meal. Of course, the nigiri is impeccably fresh.
MF's prepared dishes, including light, crispy shrimp tempura and a barely seared tuna tataki salad, deliver, too. While the cocktails are delicious, perhaps focus on spending your money on more sushi — after all, that's what makes MF one of the best dining experiences in Houston.