Texas Repertory Theatre presents When You Comin Back, Red Ryder by Mark Medoff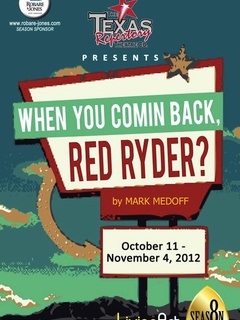 An OBIE-award winning play written by Children of a Lesser God author Mark Medoff, When You Comin Back, Red Ryder? deals with the changes of daily life at a diner in a sleepy 1960s New Mexico rest stop town.
With the arrival of a strange couple, menacing Viet Nam veteran Teddy and his hippie girlfriend, the existing calm quickly vanishes. Teddy begins to taunt, then bully, then terrorize the others in the diner, stripping away their pretensions and exposing their innermost secrets and fears.