Space Center Houston presents "Destination Moon: The Apollo 11 Mission" opening day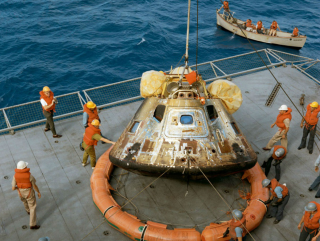 Space Center Houston is the first of four stops of a new exhibit featuring the Apollo 11 command module, which will leave the Smithsonian for the first time since 1971 on a national tour. It will be the only location where visitors can see the space capsules for both the first and last lunar landings. The nonprofit Space Center Houston is the home of the Apollo 17 command module, the last mission to land on the moon.
The "Destination Moon: The Apollo 11 Mission" exhibit is part of the nonprofit's 25th anniversary year jubilee celebration. The center is the first and only Smithsonian Affiliate in greater Houston. Guests will see more than 20 one-of-a-kind Apollo 11 mission artifacts, some of which flew on the historic Apollo 11 mission. They include the hatch, the F-1 injector plate, a lunar sample return container, astronaut Buzz Aldrin's extravehicular visor and gloves, astronaut Michael Collins' Omega Speedmaster Chronograph, a star chart, survival kit and more. With the addition of the new exhibit, guests will experience the first and the last moon landings in one place for the first time ever.
The exhibition, a partnership of the National Air and Space Museum and the Smithsonian Institution Traveling Exhibition Service, will commemorate the 50th anniversary of the extraordinary achievement of man's first step on the moon in 2019.
Following the opening day, the exhibit will be on display through March 18, 2018.