7th Annual Houston Fringe Festival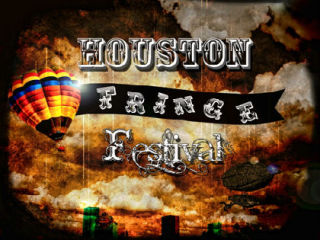 The 2015 Houston Fringe Festival is a five-day performance feast celebrating the finest in fringe art-making. The festival will take place at multiple locations, including Frenetic Theater, the Barn, and Super Happy Fun Land, all of which are in the heart of Houston's art-centric East End. The 2015 Houston Fringe Festival will feature original works in theatre, film, dance, music, performance art and visual art through 20 engaging shows.
This year's lineup features a strong cast of Fringe veterans alongside visionary newcomers working in variety of disciplines ranging from thought-provoking one-woman shows and mind-bending performance art pieces, to dramatic theater and visionary contemporary dance. Other featured genres include aerial dance, spoken word, experimental music, and improv theater.
Each Fringe show has been curated to ensure a high-quality theatrical experience. Each work is between 15 minutes and 1 hour in length. Shows that are less than 1 hour will be paired with shorter works so that each ticket ensures a full slot of fringey art.
Schedule of Events
An Unimportant Failure - TETHER theatre/dance: 9/25 at 9 pm, 9/26 at 1:30 pm - The Barn
Blurred Lines – Mobley & Mullone (paired with Juxtaposition): 9/24 at 9 pm, 9/25 at 7:30 pm - Frenetic Theater
Cirque Fe Noir - Feline Noir / Royal Rumble – Its BeJermaine Suga and The Minx 9/25 at 10:30pm, 9/27 at 6pm - Frenetic Theater
Fault Line – Perpetual Motion 9/26 at 7:30pm, 9/27 at 4:30pm - Frenetic Theater
History of happy hermaphrodite: part 1 - Koomah (paired with Trigger Happy) 9/25 at 9pm, 9/27 at 6pm - Super Happy Fun Land
Integration – Jaime Fruge 9/24 at 9pm, 9/27 at 6pm - The Barn
Juxtaposition - Kelly Switzer, George Heathco, Shanon Adams, and Daniel Adame (paired with Mobley/Mullone) 9/24 at 9pm, 9/25 at 7:30pm - Frenetic Theater
Laplace Tiger – Brandon Bell (paired with Technopoetry From The Nightshade Lexicon) 9/24 at 6pm, 9/25 at 7:30pm - Super Happy Fun Land
ONBEINGS – Verge Dance Company 9/25 at 7:30pm, 9/26 at 12pm - The Barn
Raised By Gays And Turned Out OK! – Elizabeth Collins 9/24 at 7:30pm, 9/25 at 10:30pm - Super Happy Fun Land
Scott and Zelda Fitzgerald Save The World!: A Maladjusted All-Star Comedy Disaster – The Hideout Theatre 9/25 at 9pm, 9/26 at 6pm - Frenetic Theater
Sparkle Noir - Jhon Stronks 9/24 at 10:30pm, 9/25 at 10:30pm - The Barn
Stuck between a rug and a hard place - Laura Harrell 9/24 at 7:30pm, 9/27 at 4:30pm - The Barn
Technopoetry From The Nightshade Lexicon – Lacey Schmidt (paired with LaPlace Tiger) 9/24 at 6pm, 9/25 at 7:30pm - Super Happy Fun Land
The Kid – David Scott Heck 9/27 at 3pm - Super Happy Fun Land
The Pretty One (and other things that need to be said) - Cameryn Moore 9/24 at 7:30pm, 9/26 at 9pm - Frenetic Theater
The Speak Up Project – Victoria Comesañas 9/24 at 9pm, 9/27 at 4:30pm - Super Happy Fun Land
Trigger Happy: a love story – Julie Moore (paired with history of a happy hemaphrodite part 1) 9/25 at 9pm, 9/27 at 6pm - Super Happy Fun Land
Within - Dimensions Contemporary Ballet 9/25 at 6pm, 9/26 at 3pm - The Barn
W.K. – Gale Theatre Co. 9/24 at 10:30pm, 9/25 at 6pm - Frenetic Theater