Blaffer Art Museum presents Zina Saro-Wiwa: Did You Know We Taught Them How to Dance? opening reception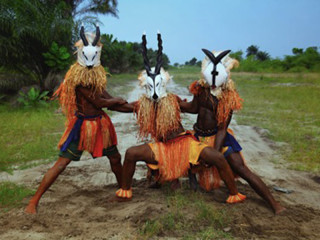 Did You Know We Taught Them How to Dance? is the first solo museum presentation of works by British-Nigerian video artist and filmmaker Zina Saro-Wiwa. Featuring video installations, photographs, and a sound installation produced in the Niger Delta region of southeastern Nigeria from 2013 to 2015, the exhibition uses folklore, masquerade traditions, religious practices, food and Nigerian popular aesthetics to test art's capacity to transform and to envision new concepts of environment and environmentalism.

Engaging Niger Delta residents both as subjects and collaborators, Zina Saro-Wiwa cultivates strategies of psychic survival and performance, underscoring the complex and expressive ways in which people live in an area historically fraught with the politics of energy, labor and land. Saro-Wiwa returned to this contested region--the place of her birth--to tell new stories that reimagine and challenge Western concepts of environmentalism and of the Niger Delta. Fully inscribed within the region while addressing the global circulation of energy capital, Saro-Wiwa develops narrative devices that render environmental and emotional ecosystems inseparable.

Additionally, Saro-Wiwa will stage a feast performance called The Mangrove Banquet. A love letter to the Niger Delta offering her guests an opportunity to ingest the region's agricultural bounty, the five-course feast features ingredients from the Delta crafted into new entities. A magical, animistic and elemental performance, the banquet returns to the Delta its agency and seductive storytelling power.
Following the opening reception, the exhibit will be on display through March 12, 2016.