Bayou Preservation Association presents Dancing Through The Decades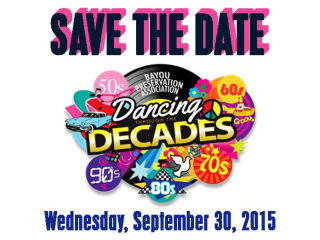 Bayou Preservation Association will host its annual gala, Dancing Through The Decades, at the serene home of Kristi and John Schiller. The event will bring bayou-loving Houstonians together to raise funds and recognize the organization that strives to protect the city's 2,500 miles of waterways.
This year's celebration embraces the six decades that the Bayou Preservation Association has helped preserve and restore waterways. Don the attire of your favorite decade and enjoy a fun filled evening of al fresco cocktails, culinary concoctions and entertainment celebrating Houston's pristine bayou system.